The Savile Arms, Elland
It is with great sadness that, following the PM' announcement, we are following Government guidlines and therefore we are now closed until further notice.
We would likme to thank all our customers for your support and, hopefully, this difficult time will be over soon for us all.
We hope everyone stays safe and we look forward to seeing you all when we re-open.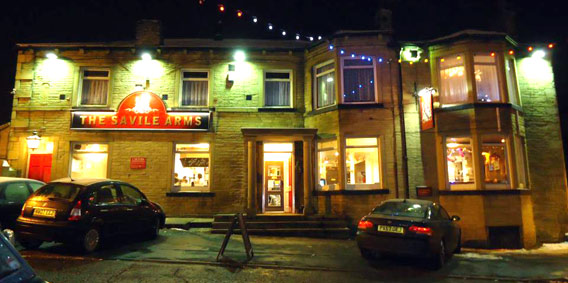 Gary, Danni and Kylie Broadley welcome you to the Savile Arms web site.
Savile Arms P**s Pot
Latest Number (8-Mar):

876
Winner:
M. & G. Craddock
Amount:
£1000
Drawn around 8pm every Sunday
CURRENT PRICES AND OFFERS

John Smiths
£2.50
Pint
£1.35
Half
Tetleys
£2.35
Pint
£1.40
Half
Fosters
£2.60
Pint
£1.40
Half
Carlsberg
£2.35
Pint
£1.40
Half
Kronenbourg 1664
£3.30
Pint
£1.70
Half
Strongbow
£3.05
Pint
£1.60
Half
Guinness
£3.30
Pint
£1.70
Half
Strongbow Dark Fruit
£3.30
Pint
£1.70
Half
Birra Moretti
£3.55
Pint
£1.85
Half
Prices correct as of 10/03/2020