The Savile Arms, Elland
Hello everyone
We are Open!

as of Monday 13th July
After extensive refurbishment and upgrades, we have implemented new policies to keep both our patrons and staff safe:
Following government guidelines It will now become compulsory to:

• Use hand sanitiser when entering the premises
• All customers will be required to give their details inline with government TRACK & TRACE policy.
• Only 1 person per group to order at the bar.
• Seating CAN NOT be moved from its current location.
• Groups of no more than 6.
• Customers must remain at their own table and CAN NOT mix with others.
ANYBODY FOUND BREAKING THESE RULES WILL BE ASKED TO LEAVE THE PREMISES IMMEDIATELY. THIS IS TO ENSURE THE SAFETY OF ALL CUSTOMERS AND ALL STAFF MEMBERS
We look forward to giving you all a warm welcome back under these unusual circumstances.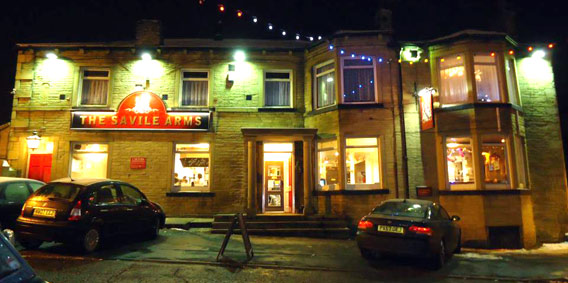 Gary, Danni and Kylie Broadley welcome you to the Savile Arms web site.
Savile Arms P**s Pot
Latest Number (8-Mar):

876
Winner:
M. & G. Craddock
Amount:
£1000
Normally drawn around 8pm every Sunday
(under current circumstances no draw until further notice)
CURRENT PRICES AND OFFERS

John Smiths
£2.55
Pint
£1.40
Half
Tetleys
£2.40
Pint
£1.40
Half
Fosters
£2.65
Pint
£1.40
Half
Carlsberg
£2.40
Pint
£1.40
Half
Kronenbourg 1664
£3.35
Pint
£1.70
Half
Strongbow
£3.10
Pint
£1.60
Half
Guinness
£3.35
Pint
£1.70
Half
Strongbow Dark Fruit
£3.35
Pint
£1.70
Half
Birra Moretti
£3.60
Pint
£1.85
Half
Prices correct as of 06/09/2020